Polyx 
High performance
snow plough
Polyx 
High performance
snow plough
Polyx
High-performance snow plough
Single section snow plough with polyethene shield.
Single-section ploughs, with HD polyethylene shield and a high yield point steel structure. 
The Polyethylene bolted to the structure is free from corrosion.
Thanks to a minor adhesion of snow on this material, it allows for a better snow evacuation and a reduction of the vehicle effort.
Suitable for the snow clearing of all kinds of urban and extra-urban roads, even with many obstacles. Engineered for any environmental condition, it can have rubber or steel scraping edges with a positive or negative angle of attack, depending on the snow conditions.
Get to know the 

Polix
snow ploughs
High performance
Maximum flexibility for every need
Any kind of snow needs a specific scraping edge:
Bi-shore rubber or polyurethane scraping edge for soft or wet snow

Steel scraping edge for hard-packed or iced snow

"RC" with a single-rubber scraping edge
In "Neoprene" with bi-shore structure, it's attached directly to the blade; it fits perfectly to the road profile disconnections, produces no noise and is ideal for soft or wet snow. "RN" with rubber scraping edge and a second stainless scraping edge with hydraulic entering. You can choose at any time whether to work with the rubber scraping edge or the steel one, depending on the snow and road conditions. This version is suitable for every application, thanks to the integration of both scraping edges.
High quality and long lifetime
High quality and long lifetime
The central oscillation system locks the blade in horizontal position when raised and frees it completely to follow the road profile with lowered blade, in working position, providing an optimum clearance and an evenly wear of the scraper.
Work safely
A safety by-pass valve, inserted in the rotation hydraulic circuit, enables the absorption of lateral impacts. In the lifting hydraulic circuit it's prepared a manual valve that, if activated, locks the plough lifted.
Key specifications
Linear width from 1,4 m up to 6,2 m

Rotation angle from +30° to – 30°

Lateral oscillation +7° - 7°

Max attack angle of blade - 5° +15°
Key features
Neoprene scraping edge
Blade curvature
Rubber splash guard
Led clearance lights
By-pass valve
Obstacle surpassing system
Transversal inclination angle
Rapid attachment
Neoprene scraping edge
For soft or damp snows.
Blade curvature
The special profile perfectly discharges even large amounts of snow.
Rubber splash guard
It limits snow splashes on the vehicle windscreen.
Led clearance lights
Resistant to vibrations and external agents.
By-pass valve
In the rotation hydraulic circuit it ensures an effective shock absorption against lateral impacts.
Obstacle surpassing system by steel scraping edge
A shock absorber system independent in each element with springs is mounted in case of  steel scraping edge.
Transversal inclination angle
A central oscillation system allows the plough to follow the road profile (+/-7°).
Rapid attachment plate to vehicle
Available in standard EU15432 version F1 or F2, DIN760060 or SETRA.
Product variations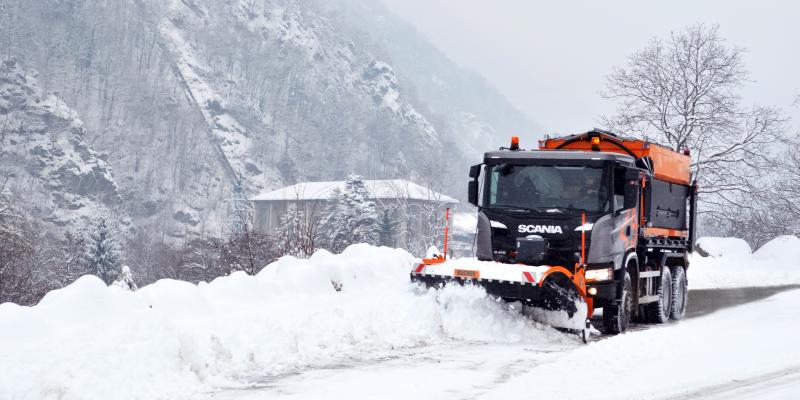 Polix plough with MBS brine injection system
The snow plough with MBS system has the same features like a traditional plough and, moreover, an integrated anti-ice brine injection system.
The brine is conducted to the nozzles integrated into the scraping blade from a manifold fed by a liquid sprayer, a salt spreader, or simply a tank mounted on the truck.
Unlike of the traditional snow ploughs, that leave a thin  layer of compacted snow on the road surface, the combination of the mechanical scraping and anti-ice brine injection causes the immediate melting of the snow, leaving the surface completely clean and already treated with antifreeze protection.
Read more
Read less
Discover Bucher Municipal
Find out why Bucher Municipal is the perfect partner for you.