Bucher Connect
Making fleet management
sim­ple and effective
Even more benefits
for your fleet
Connect your sweepers for optimal efficiency 
Bucher Connect is a holistic service designed to reduce downtime and operating costs no matter the size of your fleet. Our online platform helps you analyse operating data for the best-quality digital fleet management, while our product service offerings ensure your vehicles undergo proper maintenance.
And, with technical assistance available across your entire fleet, we provide real-time, effective solutions and remote diagnostics whenever – and wherever – an issue arises.
Digital services
No matter how many vehicles you operate, Bucher Connect will have them working at their very best. And we'll do it all while giving your fleet managers a better overview of your system.
Fleet Manager
Monitor the status of your fleet
Our user-friendly dashboard shows you all relevant operating data in a simple manner, enabling you to easily view the status of your fleet at any time. Use the data and statistics to plan your shifts and routes accordingly. 
Quality Manager
Be one step ahead with operational data
that can make a difference 
Constant access to a wide range of data – including cleaning records – enables operation and fleet managers to prepare suitable schedules and optimise fleet usage. This, in turn, cuts down on vehicle wear and tear, energy consumption, repair frequency and replacement costs.
Winter Manager
Safeguard your fleet's performance in any weather 
In winter, protect your fleet and ensure it gets the job done with Bucher Connect's auto­matic road gritting and intelligent route selection functions. You can also monitor vehicle cleaning records to ensure no road or pavement is missed. So, when the weather is poor, rest easy knowing your vehicles are in safe hands.
Retrofit
Upgrade your existing fleet
Older models and non-compatible brands may need a simple hardware in­stallation in order to link up with Bucher Connect. This upgrade will provide you access to Fleet Manag­er for one year.
Better overview and control for fleet managers
Better overview and control for fleet managers
With access to past and present vehicle operating data, including location, you can improve shifts and routes. In addition, Bucher Connect also provides constant updates about the condition of your entire fleet – allowing you to customise data and boost operations.
Reliable sweepers that can operate for longer
Reliable sweepers that can operate for longer
Our tailored digital services and repair manuals provide insight into the history and condition of every one of your vehicles. Meaning you can pre-plan servicing and reduce bottlenecks when vehicles undergo maintenance, leading to less unplanned downtime. 
Lower the cost of vehicle upkeep
Lower the cost of vehicle upkeep
Continuous access to operating and consumption data enables drivers and fleet managers to make optimal use of vehicles. This reduces wear and tear, energy consumption and repairs – lowering lifetime costs significantly.
Simple, fast support – wherever you are
Simple, fast support – wherever you are
Controlling vehicles via a data network allows fleet managers to spot and handle issues fast. In addition, our helpline operators can access your operating data to perform fault diagnostics on any vehicle in question, providing you rapid solutions and improving uptime.
Service offerings
Bucher Connect's product services ensure your vehicles undergo proper maintenance carried out by certified service partners. Safeguarding the value of your fleet
while minimising breakdowns.
Connect BASE
Under this option, you will receive service parts as part of your regularly scheduled maintenance.
Connect PLUS
This pack­age, which comes with an extended 6-month warranty, includes repairs, maintenance and replacement parts as covered by your regular maintenance schedule. 
Connect MAX
Alongside regular maintenance and repairs, a classic full-service contract includes annual driver training. With this package you can also choose the length of service.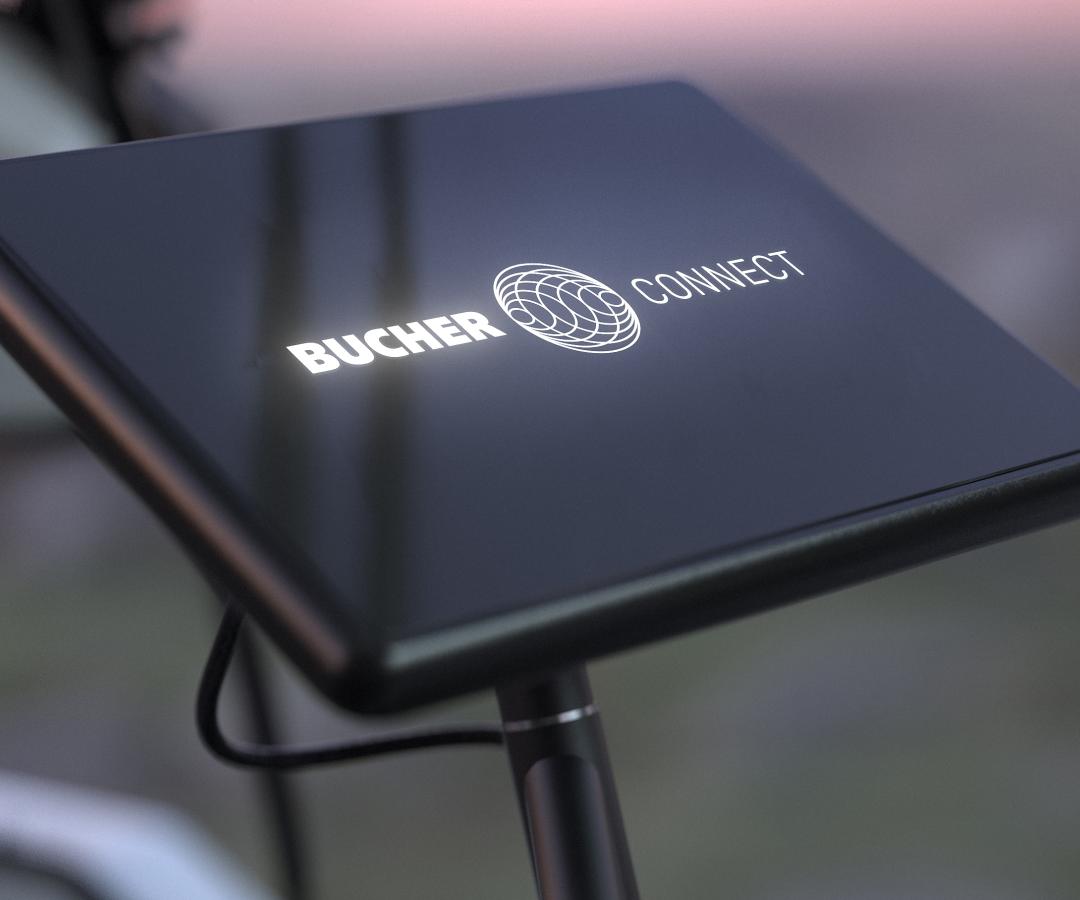 Expert technical assistance and support 
By linking Bucher Connect to your entire vehicle fleet, streamline your long-term maintenance schedule and reduce unnecessary downtime. And, if you receive a fault or error message? You can call our helpline for real-time solutions and accurate re­mote diagnostics.  
Find your local sales
and service centres
Get an overview of the market's biggest network. 
Your local Bucher expert is closer than you think.
Contact us now