MaxPowa R65
Regenerative air sweeping
MaxPowa R65
Thoughtful design,
built to perform
MaxPowa R65
Ready to demo in your neighborhood
MaxPowa R65m 
Thoughtful design
built to perform
The Bucher Regenerative Air Street Sweeper balances performance, environmental impact and low cost of ownership very effectively.
Designed to last in the toughest environments, the R Range hopper is constructed of stainless steel.  The MaxPowa R65m provides cost effective, efficient road sweeping. Regenerative air circulation allows for large forward facing digger gutter brooms and a full width suction to maximize sweeping speed. Combined with ergonomic operator controls and low running costs, the MaxPowa R65m provides an ideal solution to long low cambered roads and urban environments.
Get to know the MaxPowa R65m
Fingertip Accessibility
The MaxPowa R65m has in-cab controls with audible and visual indicators, along with a set and forget pick-up head, unhanded sweep gear components and a centralized key system.
The ergonomic in-cab controls incorporate an audible and visual raised hopper warning, sweeper fuel gauge, engine hour counter, tachometer and a low level water indicator as standard.
Sweep and Scrub
The MaxPowa R65m has an energy-efficient fan system with a fluid coupler set-up gearbox transmission.
It's 12' (3650 mm)  sweep path and aggressive 43" (1100 mm) leading arm digger-type gutter brooms provide the operator the ability to sweep/scrub in front of the 92.5" (2350 mm) pick-up hood.
Supreme Stainless Steel
The MaxPowa R65m is as indestructible as it gets. With a stainless steel 8.5 yd³ (6.55 m³)  hopper, dust separator, fan, and hopper filtration screens, it's ready for any challenge.
The MaxPowa R65m regenerative air street sweepers provide the best power to fan speed ratio in the industry.
Stainless Steel Hoppers
Bucher Municipal is the pioneering street sweeper manufacturer to offer as standard hoppers totally constructed - not just lined - of 1.4003 stainless steel – the very best for this application. Our sweepers provide 250-times better corrosion resistance than standard or even 304 stainless steel. We are also the only manufacturer in the industry to offer a lifetime warranty on our hopper bodies.
Key specifications
8.5 yd³ (6.55 m³) hopper capacity

290 gallon (1100 liter) water tank

9 gauge stainless steel hopper with a lifetime warranty

Wireless discharge control

Trailing sweepgear

Suited to 13-16.5 ton chassis range
Key Features
Dust Suppression System
Hopper
Pick-up Hood
Fan system
Controls
Electrical System
Gutter Broom
Environmentally Optimized
 
The MaxPowa R65m features a dust suppression system using an array of water sprays located in the suction tube, internal body screen ductwork prior to fan entry, around the pick up hood, and the gutter brooms.
A twin diaphragm water pump is driven hydraulically from a direct-coupled motor; self-priming and able to run dry without damage. Water winterization purge system.
Superior Size and Accessibility
 
8.5 yd³ (6.55 m³)  hopper and full engine cowling fabricated from 9 gauge stainless steel with a lifetime warranty. Access doors fitted on both sides with a safety grab handle and step to allow for screen and body load inspection.
A separate polyethylene water tank incorporates anti-surge baffles and filled via a water hydrant.
Easy Pickup
 
93" (2350 mm)  full-width low-noise pick-up hood spring-suspended with skids with 14" (350 mm) diameter suction and pressure hoses.
In-cab variable control vacuum enhancer. 144" (3650 mm) sweep path with 2 gutter brooms.
Impeller Perfection
 
Heavy-duty stainless steel dynamically balanced impeller with eight self-cleaning abrasion resistant blades. Operational speed variable between 2400 – 3000 rpm to easily adapt to application.
Dynamic Controls
 
In-cab integrated 7" CAN bus screen allowing data capture, on-board diagnostics, and in-cab daily checks. Includes audible and visual warning for hopper raised, fuel gauge, low-level lost water, engine tachograph meter, and more.
Integrated Efficiency
 
All internal and external wiring conforms to IP65 and IP67 standards-waterproof and dustproof. 12v system is integrated with the truck chassis for easy troubleshooting. Electric over the hydraulic backup system.
Flexible Sweeping
 
Large 43" (1100mm)  forward-facing digger-style, unhanded design. In-cab down pressure and variable speed control 0-135 rpm. Three pre-set lateral working positions (narrow/standard/extended).
Product variations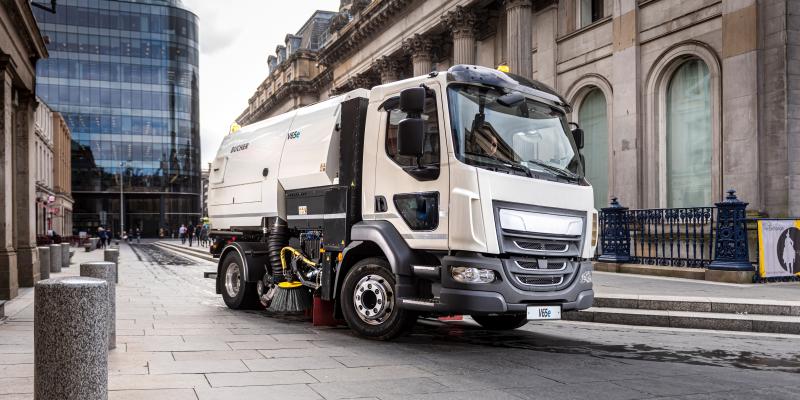 MaxPowa R65m with rear mounted wanderhose
Exceptionally good for gulley suction and drain clearance, this rear-mounted wander hose is pendant controlled reducing manual labor. The hose and boom are hydraulically lifted and can be used to the left or right-hand side of a vehicle.
Additional extensions can be added to the equipment for cleaning deep drains, gullies, and catch basins.
Read more
Read less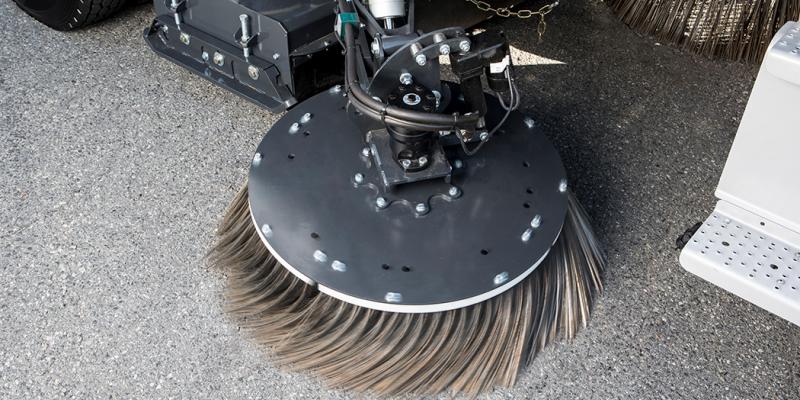 MaxPowa R65m with gutterbroom extension override
The MaxPowa R65m is available with an optional variable gutter broom positioning system. This option allows the gutter brooms to be controlled from the back and brought in while sweeping by overriding the extended position.
Read more
Read less
Other truck-mounted sweepers
Discover Bucher Municipal
Find out why Bucher Municipal is the perfect partner for you.