Icebear VP
spreaders with
single auger feed system
Icebear VP



high-value spreading machines
Available for medium-sized and large trucks in container sizes from 4.0 m³ up to 9.0 m³.
The new Icebear VP – a product of practical thinking, is able to optimize development and sustainable work.
Available in container sizes from 4.0 m³ to 9.0 m³, Icebear VP is optimized for the carrier vehicles of all well-known truck manufacturers.
A combination of modular container construction, reliable auger system, an up-to-date pre-wetted salt device, installation systems, propulsion types, sensors, and controls allow exact coordination of the winter road clearance application on roads, main roads, and motorways.
Get to know the 

Icebear VP 
spreader
Modern technology and auger system
Modern technology and auger system
The spreaders of the proven series Icebear VP with single auger system are due to their special design ideal for special applications.
Reliable and performant spreaders
Reliable and performant spreaders
The Icebear VP spreaders entail a high level of reliability, a first-class service and a favourable price performance ratio. The excellent equipment finish and the use of tried-and-tested components are a further proof of the great technical expertise built into our machines.
High quality and long lifetime
High quality and long lifetime
The particularly high-quality finish of the Icebear VP spreaders is designed for permanent use even under the severest conditions. All materials used meet the strictest quality standards.
Key specifications
Innovative pre-wetting system

Perfectly adjustable and good weight distribution on all vehicles

Low gravity's centre

10% in weight reduction, higher loading capacit

Raw materials saving, more protection

Modern painting process guarantees higher resistance and lower maintenance costs

Compact spreading group and lower turning circle

Versatile configurability on the base of customer needs
Key features
Slip sheet unit
Special painting
Spreader distributor
Control unit
Conveyor screw system
Hydraulic
Electronic spread pattern programmer
Pump unit
Equipment box
Safety cover
Salt missing sensor
Demount systems
Side tanks
Hopper cover
Warning signage
Ladder
Device box
DuoShift powershift transmission
Slip sheet unit
The skid unit forward the salt to the spreading disc and it is made of high density polyethylene with a round cross-section, preventing a clumping of loose material in the tube even at particularly low temperatures.
Specially painted spreader container
The spreader is made of welded high-strength steel and has a high-quality powder coating for a long life-cycle.
Spreader distributor
The spreader distributor distribute the salt on the street and is consisting of a stainless steel spreader disc with a special plastic cone and a modern spreader cover made of high resistant plastic material.
Control unit Ecosat
Latest generation microprocessor control systems for all kind of spreaders, with maximum flexibility in programming and visualizing the different spreading parameters: width, asymmetry and dosage depending on the vehicle speed. Six different tools in all-in-one control box.
Conveyor auger system
The conveyor auger system allows a particularly even feed of different spreading materials. Even emptying by using various curves. Also available with stirrer on request.
Hydraulic
Throughout the vehicle hydraulic system the features comply with the European Standards EN15431.
Electronic spread pattern programmer
A powerful servomotor and a potentiometer enable the symmetric and asymmetric setting of the spreading pattern with using the control panel. The servomotor is waterproof to IP 67 protection rating. Spread width: 1 - 8 m. For the optional wide-throw 3-12 m a separate spread pattern adjustment with increased power is available.
Liquid salt pump unit
The liquid salt pump unit promotes the liquid salt to the spreading disc and equipped with a plastic, maintenance-free, highperformance gear pump. The solid / liquid mixing ration is controlled electrically by using the control panel in the cab.
Equipment box
The equipment box offers optimum protection for the hydraulic block, the junction box and the black box. The box is made of plastic and damp-proof sealing.
Equipment safety cover
The equipment safety cover is mounted in the hopper and has a light construction made of highly resistant GFK material.
Optional salt missing sensor 
The spread control is mounted on the disc protection. Contactless, infrared technology is used to monitor spreading. The housing is 100% waterproof to IP 67 protection rating.
Optional
demount systems 
Spreader is supplied with a standard shelf device (4 mech. parking feets), that can hold the weight of the unloaded spreader. As an special equipment, hydraulic feet, feet with higher loads (8 tons and 10 tons) or an integrated roll-off (ABRO) can be ordered to put down the spreaders when loaded. The mechanical parking feet has a base plate at the end of the foot and has a crank to adjust the height.
Optional s
ide tanks 
The liquid salt tank is mounted on the side of the spreader and contain the liquid salt. The tanks are made from highly resistant polyethylene with filler and connection for a level sensor.
Optional
PVC hopper cover 
The folding roof protects the container contentfrom rain and snow. It consists a stainless steel frame and high-strength PVC cover.
Optional
warning signage 
The winter service warning signage is about retroreflective material for rear and side warning signage.
Optional
Ladder 
The ladder has a full stainless steel construction and it is available in various sizes. It helps to reach the top of the spreader.
Optional
well-designed device box 
It is made by highly durable and UV-resistant polyethylene. It offers an optimum protection for the warning lights and the hydraulic and electrical distributors.
Optional
DuoShift powershift transmission 
Multi-level spur gears with uniform performance over the entire nominal range. High breakaway torque and maximum conveying capacity.
Get to know more
Latest generation microprocessor control systems for all kind of spreaders, with maximum flexibility in programming and visualizing the different spreading parameters: width, asymmetry and dosage depending on the vehicle speed. Six different tools in all-in-one control box.
Ecosat has an integrated GSM/GPRS module (option) which enables operational data transmission. In case of bad coverage (e.g. tunnels) the data are logged and will be transmitted as soon as the connection is back.
Ecosat integrates (option) a multi-constellation GNSS receiver which supports GPS or GLONASS improving the localization performance in terms of accuracy, continuity, availability, and reliability.
The Ecosat stores daily operational reports and global counters which can be downloaded or printed via serial connection.
A serial connection between the infrared sensor and the Ecosat allows automatic changing of the spreading dosage based on the road temperature.
On spreaders with electrical control of asymmetry, this function provides full control of the direction of spreading. The screen display varies according to the type of asymmetry: with or without feedback. 5 pre-set positions can be selected.
In this section of the working area, it is possible to monitor the level material in the tanks, the solid quantity in the hopper and also the fuel level (only for equipment with auxiliary engine).
The vehicle speed can be simulated from 5 to 90Km/h in steps of 5. This feature is useful when there is no tachometer connection, when the connection is damaged or when the spreader has to work while the vehicle is not moving.
Alternative control unit EcoTron / EcoTron Plus
The EcoTron / EcoTron Plus control panel unit is characterised by its compact dimensions and high-resolution graphics display. The EcoTron / EcoTron Plus performs sensor-based and monitoring of distance-dependent screw conveyor speeds and pump speeds, and also saves all relevant working data. A serial USB interface port is available for easy exporting of data.
Compact dimensions: Width 175 mm, Height 115 mm, Depth 65 mm.
Two rotary knobs with precise click-in positions.
Large colour display 95 mm x 55 mm, dimmable.
Enlarged display area if the quantity to be spread or the width of spread changes.
Simple and secure adjustment of the most important spreading parameters: Metering width and asymmetry.
Backlight function keys for secure operation of the main functions even under bad lighting conditions.
User-friendly control interface which presents all the important information in a clearly structured format - optimum design based the latest best practice.
Continuous recording all working data together with the overall information can be exported to an external storage medium (UBS stick) via the serial interface port.
Distance-dependent spreading by sensor-based monitoring of the screw conveyor speeds and pump speeds.
Product variations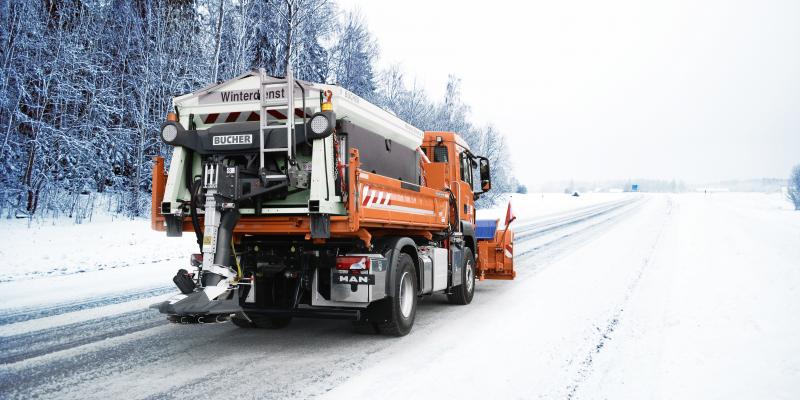 Electra 
100 % electric spreader
Electra, the first professional spreader for medium sized and heavy trucks that is operated 100% electric. 
Read more
Read less
Discover Bucher Municipal
Find out why Bucher Municipal is the perfect partner for you.