CityFlex C40
Combination sewer cleaning unit
CityFlex C40 
Compact combi unit optimized for the city
Move around easily in both densely populated areas as well as in-between and inside buildings
Work with minimum obstruction to traffic. This small unit is as efficient as its larger counterparts but also more cost effective and easier to maneuver in narrow spaces.
Get to know the Bucher CityFlex C40
Move around easily and cost efficiently
Move around easily and cost efficiently
The compact size of the Bucher CityFlex makes it easy to operate in urban areas where there is little accessibility and it gives you a competitive advantage since it allows you to go into those city sections with limitations on height, weight and environmental footprint.
Safety is prioritized
Bucher CityFlex is equipped with working lights, rotating beacons, sidelights, and reflectors making evening shifts easier and safer. The storage compartments are also lockable so you can have your gear safely stored throughout the day.
Key specifications
Tank: 879 UK gallons (4 m³)

Tank: 0.5 bar pressure approved

Jetting pump: Uraca P3-10, 28 UK gpm @ 2,320 psi (127 l/min @ 160 bar)

Jetting hose reel: 164 ft (50 m) 3/4" + 196 ft (60 m) 1/2"

Vacuum pump: CVR RSL 400, 1,264 UK gpm (5,750 l/min) @ free flow

Converter: for CCTV system 24 V to 12 V
Key features
Cabinets and shelves
Accessories
Control panel
Remote control
Movable partition
Automatic end cover
Plenty of storage
With lockable cabinets you are able to store and bring accessories and gear safely. It enables operators to get started - and move on to the next job faster.
Upgrade your ride
Improve your workday with the different sets of accessories available for each of the Bucher CityFlex variants. These are available as detachable vices, cover hooks, end cover safety supports and different sizes of nozzles, hoses and coupling adaptors.
Automatic operation with the user-friendly control panel
Manage all functions needed for the job with the simple control panel mounted on the back of the tank. This provides a more intuitive way to operate the Bucher CityFlex.
Easy and convenient operation at the palm of your hand
No need to go back and forth to operate the jetting and vacuum pump and hoses, telescope arm or engine RPM. Operate all these functions while you stand next to the manhole.
Enjoy a flexible tank size with the movable partition
As the water in the tank gets used, the partition can be moved hydraulically to give space for the sludge, keeping both separated at all times.
Empty your tank effortlessly and without obstructing
The hydraulic end cover opens upwards automatically minimizing obstructions on roads or sidewalks.
Get to know more
Fast, flexible and reliable system for service and operation
Experience an easier interface and fast response when operating the control panels. This system also allows for an easier, cheaper and more reliable way to diagnose and repair possible faults.
Strong and resistant tank
Our tanks are painted with an 8-step painting process to achieve a corrosion class C3. This allows an average lifetime of minimum 20 years.
Personalize your units with your logo and message
Stand out from the rest and make your units unique to your business. Use the available sign plates to add your logo and/or any text you want.
Hygiene on the go
Keep your hands clean at all times with the convenient hand wash facility mounted on the side of the truck. Wash your hands with warm water even in cold days.
A water filter protects the pump
The pump automatically switches off when the water in the tank reaches a minimum level
Protection of the compressor
A filter unit in the pipe system protects the compressor
The filter unit prevents the sludge from entering the pump in case the tank gets full
Product variations
CityFlex C40 Comfort
More storage space and extra cabinets with roller-shutter doors
Get the general Bucher CityFlex specifications and the same amount of work lights as the Classic variant plus five lockable cabinets with roller shutter doors, three pipes for storage of 3" suction hoses and three storages for the fence. This Comfort variant includes a hydraulic hose reel with 492 ft (150 m) 3/4" jetting hose, and a 3/4" nozzle set.
Read more
Read less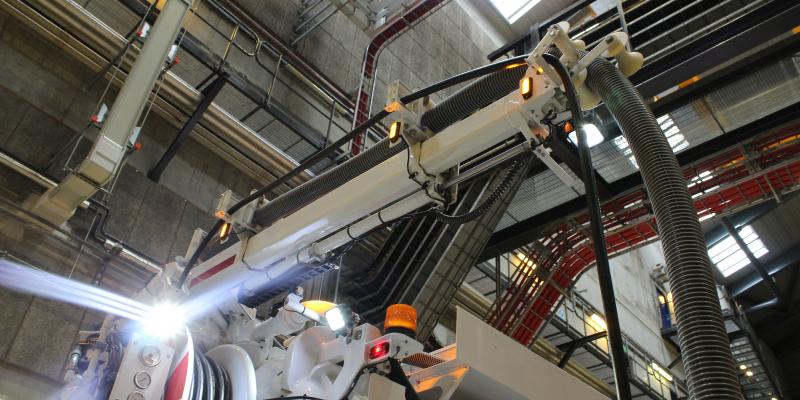 CityFlex C40 Premium
Suction cassette, heated cabinets plus inverter for CCTV
Get the general Bucher CityFlex specifications with an improvement from the specifications of the Comfort variant. The Premium variant comes with a 3" suction cassette with hydraulic lift and a 7 ft (2 m) extension, a 2 kW oil burner with air circulation through the cabinets, six work lights, four rotating beacons and ten flash lights with built-in reflectors, and a 1/2" nozzle set. As for storage, it includes five heated and lockable cabinets with light and roller shutter doors, three lockable drawers, one lockable tray, one open box, one cone holder and three storages for fence.
Read more
Read less
Other sewer cleaning units
Discover Bucher Municipal
Find out why Bucher Municipal is the perfect partner for you.