PakMor
Integrated
auger compactor
PakMor
Integrated Auger Compactor
Reduced waste volumes and improved space efficiency.
Bucher Municipal's PakMor IntegratedAuger Compactor is specifically designed to compact large volumes of waste material. With a fully sealed, cavity-free compaction chamber, the PakMor Integrated Auger Compactor allows for both wet and dry waste streams making it ideal for commercial & retail centers, industrial sites, residential complexes and food manufacturing facilities.
PakMor Auger Compactors allow for uninterrupted loading to efficiently process and compact waste. The design of the PakMor Auger Compactor offers flexibility in equipment configuration to accommodate site specific requirements.
Get to know the PakMor Integrated Auger Compactor
Save space, time & labour
Save space, time & labour
Bucher Municipal's PakMor Integrated Auger Compactor allows for:
Minimal onsite waste storage

Uninterrupted processing of waste, as the auger moves in a continuous forward motion to efficiently  compact product

Various loading options available, including bin lifter, forklift/tippler, conveyor
Designed & engineered for optimal performance
Designed & engineered for optimal performance
Auger designed to suit specific waste stream & application

Electrically driven motor & gearbox eliminates potential oil leaks or damaged hoses

In-house mechanical & electrical engineering solutions
Industry leading technology options including email notification, weighing systems and remote dial-in service response
Providing a cleaner & safer working environment
Providing a cleaner & safer working environment
The sealed compaction chamber combined with an integrated body, and a heavy duty "B" section rear door seal, prevents liquid leaking from the machine to prevent contamination of public areas & improve working conditions

The electric motor & gearbox eliminates potential hydraulic oil leaks or hose damage

Reduced onsite truck movements
Manufactured to Australian safety standards
Key specifications
Available in a range of sizes, from 6m³ to 35m³ capacity

Customized to accommodate space constraints, overhead height limits & site accessibility

Hopper manufactured to suit a variety of loading configurations

Double ended hook lift collection system

User friendly control panel with 3/4 & Bin Full display

Galvanised container guide rails

Installation & operator training provided by Bucher Municipal

Standard 12 month warranty
Optional Extras
Safely and efficiently handle waste
Bucher Municipal manufactures a range of heavy duty hydraulic bin lifters to suit loading MGBs, front lift bins, tipplers, pallets & other custom applications.
The Bin Lifter is mounted inside a safety cage, with machine guarding and access interlocks designed to comply with Australian Standards.
Features such as door position and loading access, increased tipping height and lifting weight capacity can be tailored to suit customer requirements.
The PakMor Slider system allows compactors to be placed in areas with access constraints. The Slider system includes a hydraulically operated platform that can be slewed on an angle, shifted sideways or moved forward into a position to safely access the compactor for collection. 
Advanced technology solutions
Bucher Municipal leads the industry in compactor technology systems, which are constantly evolving to meet client requirements.
The PAK-ALERT Notification System generates emails to nominated recipients when the compactor is ¾ filled and full to optimise service collection scheduling. Email notification of equipment faults can also be generated, with the option for dial-in access for improved service response, remote program updates & setting adjustments. 
PAK-WEIGH Technology offers multiple weighing solutions including data reporting, most commonly utilised to capture weight per user transaction using either a hand-load scale hopper or bin lifter with floor scale configuration. Alternatively, a rail system with scales can be installed to maximise container tonnage while ensuring compliance with NHVR and Chain of Responsibility requirements.
Product variations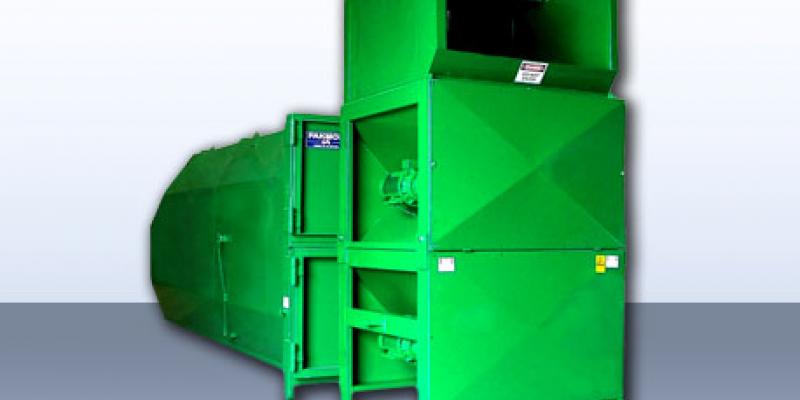 Dual Augers for separate waste streams
Bucher AT900d Dual Integrated Auger Compactor
Specifically designed for compacting large volumes of waste material . This dual compactor is two separate machines mounted one on top of the other and is best suited to sites with multiple waste streams where space is limited such as retail outlets and industrial sites.
Bucher Municipal's Auger Compactors come equipped with a cavity free  sealed compaction chamber that prevents waste from collecting in hard to reach areas to minimise waste decmomposition and odour. Ideally loaded from a loading dock the AT900d can be continuously loaded and features a range of customisable features to suit your specific waste compaction needs.
Read more
Read less
Discover Bucher Municipal
Find out why Bucher Municipal is the perfect partner for you.