Our all-electric sweeper won

«Gold»


at the German Design Award 2023
We are pleased to announce that the CityCat VR50e won «Gold» at the German Design Award 2023 - Excellent Product Design!
«With its new all-electric sweeper for cleaning urban areas, Bucher is setting standards in terms of performance and design. In addition to outstanding energy efficiency and maneuverability as well as a water-saving cleaning process, the sweeper impresses with a spacious cab designed for three people, which ensures optimum all-round visibility thanks to the all-glass front including doors. This is complemented by ergonomic seats, which, in conjunction with the smart, user-centered operability, promises a high level of workplace comfort. The fact that the sweeper promises a high cost reduction due to its well thought-out design concept makes the purchase particularly attractive for cities and municipalities,» according to the jury's statement.
«Good design requires an in-depth examination of the challenges of our time – because social and political changes require constant questioning and the ability to set new priorities, as well as incorporating previously unknown perspectives. The German Design Awards recognise this extraordinary achievement,» explains Lutz Dietzold, CEO of the German Design Council. «The German Design Awards raise awareness of those companies, projects and products that keep pace with the transformations of our time, driving sustainable solutions and providing innovative responses to an ever-changing world.»
The German Design Awards set the highest standards in terms of selecting their winners: in a unique nomination process, companies whose products and communication design services demonstrably exhibit design excellence are invited to enter. Moreover, companies have the opportunity to submit projects directly and on their own initiative; these will then be reviewed by the German Design Council to verify whether they meet the required participation criteria.
The «Gold» distinction of the German Design Awards is the highest distinction, awarded for excellent, comprehensive and innovative design work. As leading trailblazers, «Gold» title holders provide crucial stimulation for entire industries. The jury names one or more «Gold» recipients in each category, depending on the quality of the submissions.
The German Design Council has operated as one of the world's leading centres of expertise in communication and knowledge transfer within design, branding and innovation since 1953. It is part of the worldwide design community and has always contributed to the establishment of global exchange and networking thanks to its international offering, promotion of new talent and memberships. With events, conventions, awards, jury sessions and expert committees, the Council connects its members and numerous other international design and branding experts, fosters discourse and provides important stimulation for the global economy. More than 350 businesses currently count among its members.
Get to know more about the award here.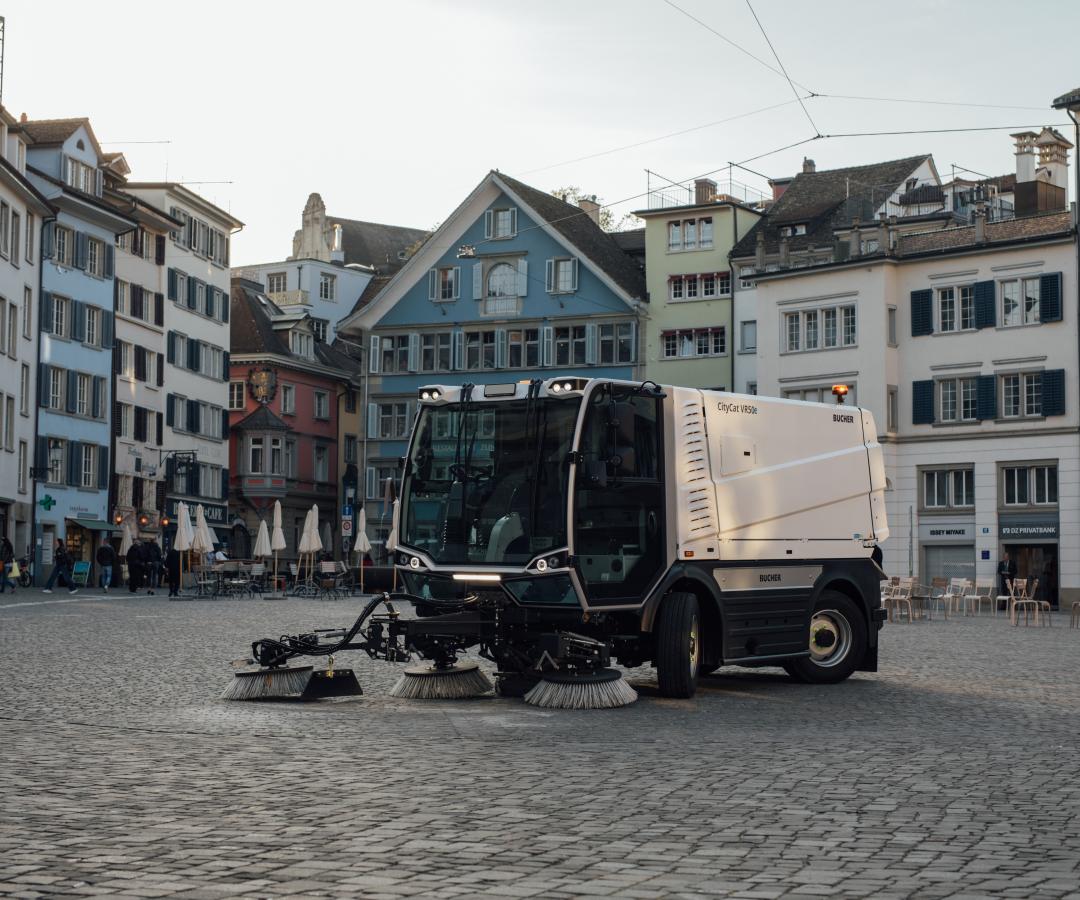 CityCat VR50e
The Bucher CityCat VR50e sets a new standard for compact sweepers with its unique design and pioneering technology.
Explore