MaxPowa V65

e
100% electric
sweeper
MaxPowa V65e


Engineered to last, designed to perform
100% electric truck mounted sweeper
The MaxPowa V65e is offering a solution for zero emissions sweeping combined with longer on-station time, ease of use and low operational costs. 
High Performance
200 kWh battery capacity
Matching battery capacity and power to allow auxiliary engine sweeper performance is the goal and this is achieved with a large 200 kWh battery pack mounted behind the chassis cab. The lithium ion phosphate battery provides 2000 full charging cycles and an on-board battery management system constantly monitors and maintains the temperature and health of all battery cells, balancing them without the need for liquid cooling.
Charging
Charging capacity of 44kW
The MaxPowa V65e is fitted with two 22 kW on-board chargers giving a charge capacity of 44 kW with fastest possible charging time of 4-5 hours. An optional 3-phase 5 pin charging cable is available in either 32A or 63A, and the sweeper can be charged from various standard 415V AC 3-Phase industrial sockets. The AC charging connector is a Type 2, capable of charging from any supply, such as  motorway services or street side chargers.
 63A / 44kW charging 10-100%   Charge Time: 4-5 hours
 32A / 22kW charging 10-100%   Charge Time: 8-9 hours
Low environmental impact
Zero Emissions
Producing zero tailpipe emissions and low noise makes the MaxPowa V65e ideal for municipal sweeping and with a driving range of 200 km on a single charge means that it operates at less than 1 kWh per kilometre.
Low water usage
Extend on-station time
The V series uses as standard yellow mist atomizing jets to reduce water usage by 20%, or red nozzle jets with higher flow are available for heavier applications. 
Key specifications
6.5 m³ hopper capacity

1545 litre water tank

3260 mm wheelbase

Wireless discharge control

Up to 6000 kg payload

Transit range of up to 200 km
Key Features
Hopper
CANbus System
Safety
Operator Experience
Pressadrain
Water Capacity
Swept Width
Designed to last in the toughest environments
The MaxPowa V65e hopper is manufactured from 1.4003 stainless steel, shot blasted with aluminium oxide prior to the application of a strontium based primer followed by a hard wearing top coat. In addition, all grey parts such as the sweepgear, powerpack and subframe are shot blasted and electro-magnetically powder painted in a durable two part epoxy paint finish. This ensures the sweeper continues to look as good as it performs, retaining a high residual value or longer in-service life.
Monitor sweeper performance
The CANbus system monitors sweeper performance and provides daily checks. The display incorporates as standard an audible and visual raised hopper warning, battery capacity, and a water level gauge.
A full CANbus integrated door mounted control pad allows the operator to safely adjust all the sweep options.
The MaxPowa V65e is equipped with a radio controlled remote pendant allowing the operator to walk completely around the sweeper without having wires to contend with.
 The operator can adjust the wide sweep brush easily to extend brush life and can check the surroundings before opening the hopper or tipping.
Designed with Safety in mind
The highly visible, self-engaging body prop provides the operator and service personnel with a safe working environment. The V series features a wireless radio controller allowing the operator to walk completely around the sweeper. The operator can adjust the wide sweep brush easily and check surrounds before opening the rear door or tipping.
High visibility brush plates and hose sleeves make it easier for the operator to see the brush position. The V series is also supplied with an LED sweepgear work light as standard and a wide range of additional LED and hazard warning lights are also available.
Additionally, the MaxPowa V65e is also fitted with waterproof IP67 automotive electrical connectors for enhanced reliability. Bucher MaxPowa V65e models have equipment storage lockers on both sides of the hopper for storage of hydrant or Wanderhose extension tubes. 
Designed with the Operator in mind
The in-cab centre console featuring cup holders and USB charging points can be adjusted to suit the operators preference. The 7" colour JVM screen is mounted on an articulated arm allowing tilt angle and rotation to be adjusted without the need for any tools. The JVM has a wide range of settings that can be tailored to suit the operational needs.
The ergonomic door controller can be used for all sweeping operations, brush position, pressure, speed, nozzle aperture and water jets. A heavy duty pause button allows the operator to lift all the sweepgear until depressed again. This allows the operator to change from sweeping to transit in a quick and easy way. The V series remembers the last sweeping settings used each time.
Water Purging system as standard
Water purging system so that when freezing weather conditions are anticipated, water is easily and conveniently drained from the sweeper by a simple in-cab switch. Water jets in the nozzle boxes are self-cleaning which extends the life of the components.
Up to 1545 litres
The MaxPowa V65e has a 1545 litre stainless steel water tank integrated in the lower portion of the hopper. The MaxPowa V65e uses yellow mist atomizing jets to reduce water usage by 20%, alternatively red nozzle jets with higher flow are available for heavier applications. 
Up to 3600mm with simultaneous sweep option
The MaxPowa V65e offers up to 3600mm swept width with the simultaneous sweep option, set almost flat makes short work of light application surface cleaning.
Product variations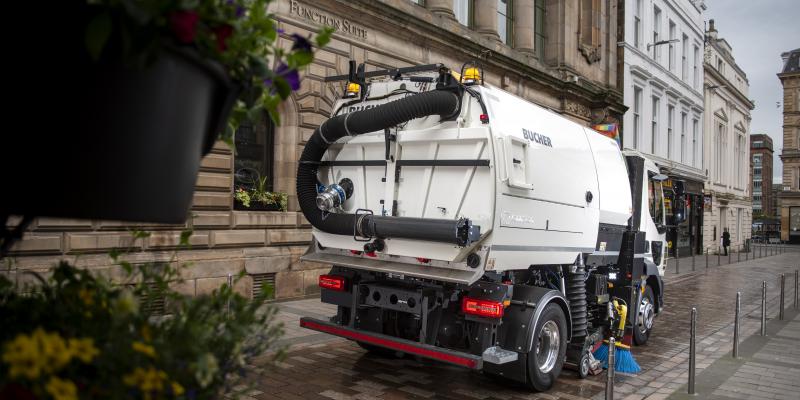 MaxPowa V65e with rear mounted
wanderhose
The MaxPowa V65e is available with a 200mm diameter Rear Wanderhose option. Mounted to the rear door it is hydraulically operated and is particularly useful for height restricted areas. The single piece heavy duty wanderhose allows effective gully emptying and provides fast deployment to maximise uptime. 
Read more
Read less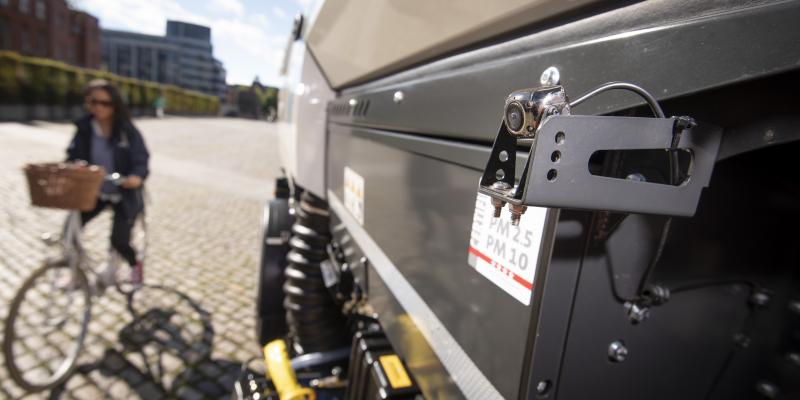 MaxPowa V65e with quad camera
option
The in-cab JVM screen of the MaxPowa V65e provides information on the sweepers performance and doubles as the camera screen, reducing the requirement for additional screens in the cab and improving direct vision for the driver.
The built in camera system can offer up to four additional cameras, including a camera to the rear, a second and third camera for views of the brush gear. An additional fourth camera can also be supplied for an offside road view providing additional vision for potential blind spots and further aid the health and safety of cyclists and other road users.
Read more
Read less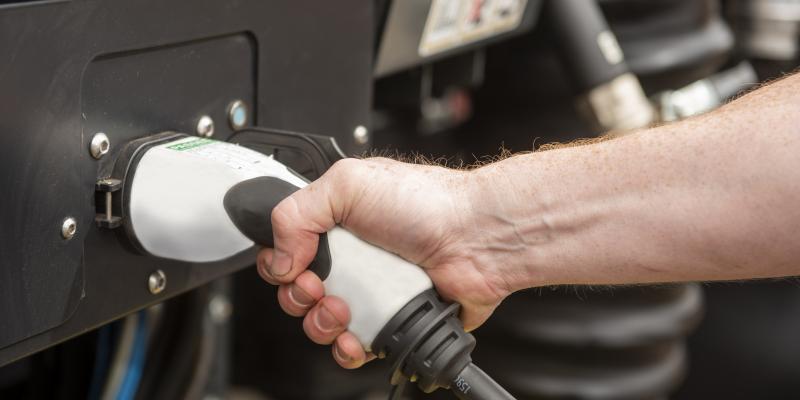 MaxPowa V65e with charging
cables
The MaxPowa V65e can be supplied with a choice of charging cables to suit requirements, depending on infrastructure with cables available in either 32A or 63A  for charging between 8-9 and 4-5 hours respectively.
Read more
Read less
Other truck mounted sweepers
Discover Bucher Municipal
Find out why Bucher Municipal is the perfect partner for you.