MaxPowa V80
rear suction
Back to black sweeping in one pass
MaxPowa V80
rear suction
Back to black sweeping in one pass
Heavy duty sweeping that provides a flawless result across the toughest conditions. 
Designed to deliver exceptional quality, the Bucher MaxPowa V80 rear suction has been developed for the most demanding of sweeping conditions ranging from muddy construction sites and highways to everyday situations that require that something extra. In combination with high-pressure water spray jets configured behind the rear wheels, the MaxPowa V80 rear suction cleans and removes stubborn dirt, providing a long-lasting finish.
Get to know the MaxPowa V80 rear suction
Deep Cleaning
Back to Black in one pass.
The MaxPowa V80 rear suction packs more of a punch than your standard V series sweeper.
Full width mild steel rear suction nozzles offer high performance pick up, ideally suited for highways and road construction, they are also effective for the removal of glycol and de-icing liquids. With three heavy duty castor wheels to follow the contour of the road, with super-elastic solid rubber tyres with abrasion resistant tread, the rear suction option provides exceptional cleaning in heavy applications and uneven surfaces.
Alongside the powerful high pressure water system, Powawash, the MaxPowa V80 rear suction offers dust control ad a complete cleaning solution.
Health & Safety
Safety first
The MaxPowa V80 rear suction provides a long-lasting finishing making it perfect for busy work yards and industrial sites. Spills and debris are inevitable and cause a safety hazard for the workers involved. One pass is all it takes for the MaxPowa V80 rear suction to quickly and conveniently reinstate safe working conditions by eradicating dust, removing debris and stubborn mud from the ground.
Dust Eradication
Nothing left behind
With the rear suction nozzle option dust can be dealt with swiftly. Traffic churns up dust, particularly after a dry spell so there's lots of PM10/2.5 floating around.
The combination of Powawash offering deep cleaning and full width rear suction behind the rear wheels dampens the dirt and dust down, picking it all up without further tyre disturbance. This means there's no dust when the surface dries, so rear suction sweepers are ideal for working behind planers too.
Key specifications
Full-width rear suction nozzles

2300 litre integral water tank

Optional High pressure V-Jet nozzles

1.4301 stainless steel water tank

8 m³ hopper capacity

Total possible water capacity of 4000 litres
Key Features
Full width rear suction
Water Capacity
Powawash
Operator Experience
Hopper
Safety
Pressadrain
Swept Width
Emissions
Designed to operate in the toughest of conditions 
The MaxPowa V80 rear suction has full-width suction nozzles at the rear to provide sweeping performance that is unmatched by the typical V series sweeper.  Available as a twin engine or with hydrostatic drive, the MaxPowa V80 rear suction comes with key features such as Smoothflow air technology and additional options to suit a variety of operational requirements. This type of power is used for heavy duty operations including, but not limited to, highways, construction and industrial sites.
Up to 4000 litres total water capacity
The hopper features a large 2300 litre integral water tank constructed from 1.4301 stainless steel.
Alongside the Powawash option, the MaxPowa V80 rear suction can provide a total water capacity of 4000 litres for improved on station time.
Powerful High Pressure Cleaning
The powawash option is supplied with a large 1700 litre stainless steel auxiliary water tank. Featuring an integral locker and 15m retractable hose reel, it also provides useful storage space. The handlance with two jets is mounted to the front of the tank.
The high pressure pump delivers 120 litres @ 160 bar and is positioned to be modular regardless of chassis choice and, available with a variety of spraybar configurations is ideally suited for a variety of applications.
When rear suction and the Powawash option are ordered together, the rear nozzles are supplied with a high pressure spraybar to the back of the rear nozzles as standard.
With 20 V-jets, angled to achieve maximum effectiveness and covering the full width of the nozzles, cleaning performance is further enhanced, offering Back to Black results.
Cleverly thought through with the operator in mind
The centre console featuring cup holders and USB charging points can be adjusted to suit the operator's preference. The JVM screen is mounted on an articulated arm allowing tilt angle and rotation to be adjusted without the need for any tools and has a wide range of settings that can be tailored to suit the operational needs.
The ergonomic door controller can be used for all sweeping operations, brush position, pressure, speed, nozzle aperture, engine revs, and water jets.
A heavy-duty pause button allows the operator to lift all the sweep gear until depressed again. This allows the operator to change from sweeping to transit in a quick and easy way. The V Range remembers the last sweeping settings used each time.
The electronic water valves for the Powawash option, has a dedicated keypad added to the door controller to allow for quick and easy in-cab operation. Water pressure can also be adjusted from in the cab for the required operation. 
Bespoke design
Through years of experience in sweeper design, Bucher has developed a unique system that creates a cyclone effect within the hopper for efficient filtering of debris and dust particles prior to discharge to the atmosphere through mesh filter screens.
This unique design is now a standard feature of all V series sweepers. The rear discharge chute directs loads away from the rear of the vehicle, minimising the risk of damage to lamps and other components. The standard load de-watering system allows the draining of water from the waste volume
Designed with safety in mind
The highly visible, self-engaging body prop provides the operator and service personnel with a safe working environment. The V series features a wireless radio controller allowing the operator to walk completely around the sweeper. The operator can adjust the wide sweep brush easily and check surrounds before opening the rear door or tipping.
High visibility brush plates and hose sleeves make it easier for the operator to see the brush position. The V series is also supplied with an LED sweep gear work light as standard and a wide range of additional LED and hazard warning lights are also available.
Water Purging system as standard
Water purging system so that when freezing weather conditions are anticipated, water is easily and conveniently drained from the sweeper by a simple in-cab switch. Water jets in the nozzle boxes are self-cleaning which extends the life of the components.
Up to 3600mm with simultaneous sweep option
The MaxPowa V80 offers up to 3600mm swept width with the simultaneous sweep option (for dual sweep machines only), set almost flat makes short work of light application surface cleaning.
Full EUnited PM10/2.5 Compliance
The MaxPowa V80, in common with all the V series,  is also the first European-manufactured machine to achieve full PM10 test compliance in stringent air quality tests on whole vehicle emissions and comes 4* certified.
Product variations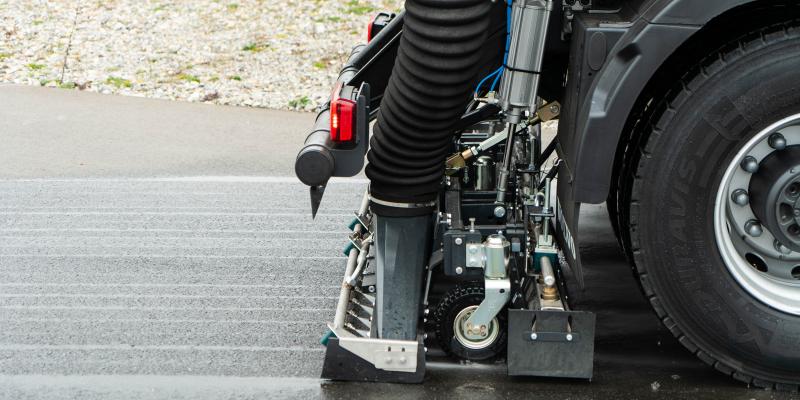 MaxPowa V80 rear suction with rotating nozzle jets 
When Rear Suction and Powawash are ordered together, rotating nozzle jets are available as an additional option. Mounted in front of the rear suction nozzles, the 16 rotating jets offer further cleaning intensity.
Read more
Read less
Other truck mounted sweepers
Discover Bucher Municipal
Find out why Bucher Municipal is the perfect partner for you.