C202
Small and
perfectly formed
C202
Small and perfectly formed
Designed around six key objectives as required by our customers.
 
The Bucher C202 introduces a host of new features of enhanced performance and ride comfort, together with reduced running costs and lower impact on the environment.
Get to know the C202
High performance
The Bucher C202 offers longer on-station time allowing the sweeper to be out cleaning whilst others are returning to base to tip, refuel or fill with water.
Maximising on-station time requires a balance of having enough water to allow the operator to fill the hopper on a dry day, having enough hopper volume to cope with large volumes of leaves and litter, having enough of a payload to handle heavy detritus and having enough fuel to last the shift.
High productivity
Productivity is driven by a combination of reliability, having fewer service interventions, great suction performance, quick engage options and outstanding maneuverability.
Service interventions restrict the time out sweeping, routine servicing, hydraulic leaks, damage, and even punctures have an impact on utilisation.
The Bucher C202 has been improved to reduce the risk of damage, reduce tire wear and punctures and improve hydraulic routing to prevent leaks and chaffing.
Low environmental impact
In a busy urban setting, the Bucher C202 is taken for granted by the public as an environmental benefit to their living space, it's comforting to know the Bucher C202 can deliver a productive service with a minimal impact to the environment.
The environmental impact extends far beyond emissions and noise produced by the sweeper; the Bucher C202 traps particulate matter inside the hopper, removing harmful dust from the surface and helps to improve the air quality.
A safe work environment
Safety for the operator, service engineer, other road users, and vulnerable road users is everyone's priority and the Bucher C202 has a range of features and optional equipment designed to make operating and repairing the Bucher C202 better than ever.
Lower cost of ownership
The Bucher C202 has been designed with a low running cost in mind. A host of new features has been added using the latest technology and innovation to lower the cost of ownership.
Key specifications
1.8 m³ hopper volume

4.3 l/h fuel consumption

4 wheel steer

500h between routine services

PM2.5/10 4-star certified

Emissions standard Euro 6c

Height under 2 m
Key Features
Manoeuvrability
Engine
Sweeping
Hopper
Operators comfort
Cost of ownership
Cleaning
Superb manoeuvrability
The four-wheel steering provides the highest reliable directional stability and maneuverability. The turning radius is, therefore, less than 2010 mm.
The hydrostatic drive can switch seamlessly from forward to reverse and work mode/transit.
The Bucher C202 is under 2m including optional wander hose allowing access to car parks and under bus shelters where other sweepers are unable to sweep.
Low fuel consumption
Through intelligent design, the Bucher C202 can provide high performance at lower engine revs, allowing up to 40% less fuels to be used.
Operator friendly sweeping system
The front-facing brush system with independent brush arms maximise the sweeping width.
Water jets on each brush arm provide a fine clean water spray to trap dust particles lifted by the two brushes. In addition, recycled water from the hopper load is filtered via stainless steel 'wedge wire' panels and pumped into the nozzle intake duct.
All material is soaked as it passes through this 'water curtain' and falls safely into the hopper. The operator can see the front of the nozzle so can open the leaf flap or lift the nozzle to prevent 'bulldozing'.
Hopper with water recirculation
The 1.8 m³ hopper volume and 1.5 m discharge height is ideal for tipping into skips or bins.
Made out of 1.4003 stainless steel, the hopper is designed to last the life of the sweeper with low corrosion and high wear.
A large water recirculation tank with a large aperture and tilting pump allows quick access for emptying and washing out.
Ergonomic and safe operation
The spacious walk-through cab provides the ideal operator environment.
The operator seat has full suspension and is equipped with three-point seat belts for improved safety and comfort. An ergonomically positioned center control arm and adjustable steering column provide for ease of use.
The full vision cab with quick clear windscreen offers a superb vision to the front, sides, and floor.
All the controls and switches are within easy reach with no need to twist or turn, keeping the driver's eye on the job ahead. Air conditioning and climate control are also available.
Minimize costs
The Bucher C202 is fitted with industrial tubeless tires that provide a wider footprint reducing the risk of damage to delicate surfaces.
Being damage and scrub resistant they provide three times longer life than commercial tires. Steel hydraulic pipes replace flexible hoses to reduce chaffing and premature hose wear.
New quick change brush arm hoses reduce downtime. LED work lights as standard offer more powerful lighting while significantly reducing the number of times bulbs require replacement.
A service interval of 500 hours also reduces costs and increases uptime.
Cleaning faster in comparison till terms of design
The Bucher C202 is easy to empty and clean. The hopper is lifted by two powerful hydraulic rams allowing the load to be tipped into bins and skips up to a 1525 mm tipping height.
The water recirculation pump is hinged to speed up and improve cleaning. The large mesh screens are dropped via a simple pin and the stainless steel hopper has wedged wire screens that prevent debris sticking in the first place.
The impeller fan features an inspection hatch which can also allow access for cleaning.
Product variations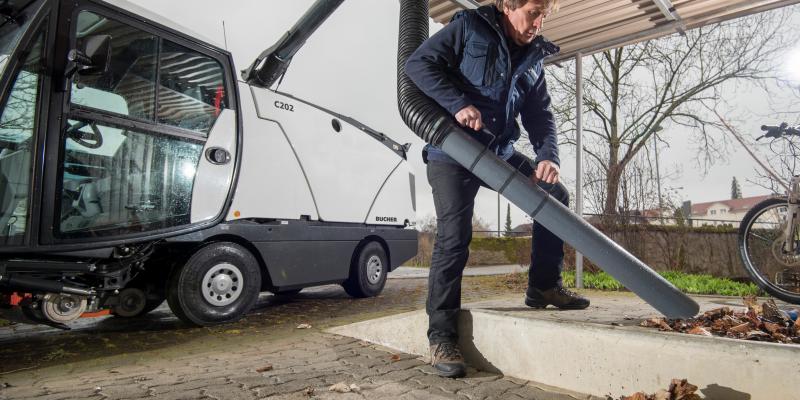 Bucher C202 with
Wanderhose
The wanderhose is quick to deploy and easy to store with no need for the operator to step off the curb or behind the sweeper allowing litter and leaf collection up to 3.7 m outside of the sweepers reach.
Read more
Read less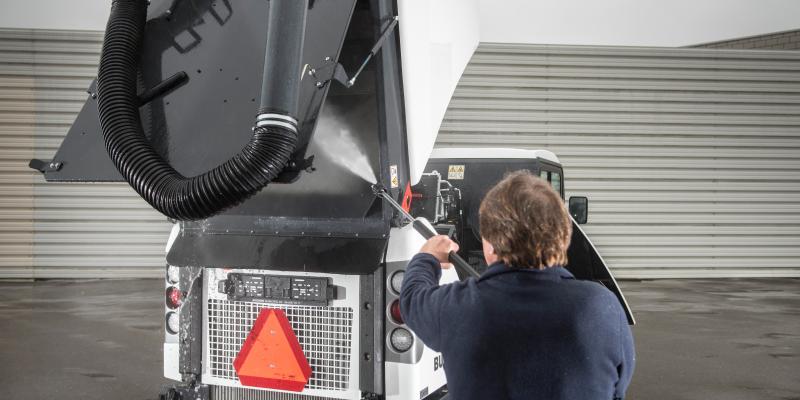 Bucher C202 with
Supawash system
The on board Supawash system allows the operator to jet wash street furniture. It can be supplied with fan and pencil jets or detergent injection to assist cleaning. It can also be used to clean the sweeper after use.
Read more
Read less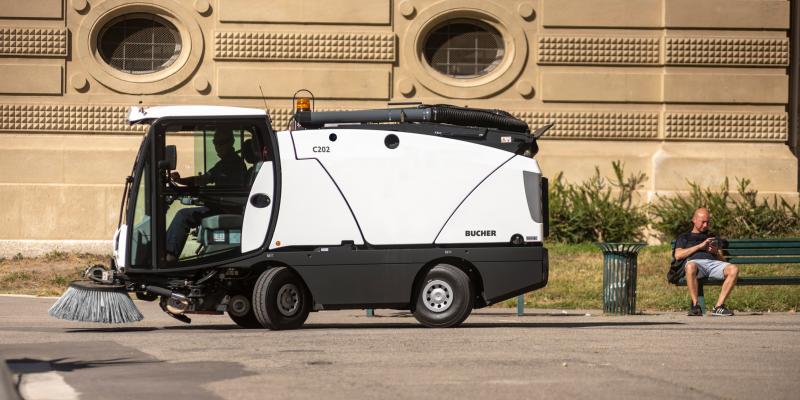 Bucher C202 with
4 wheel steering
The Bucher C202 can be equipped with 4 wheel steering that allows the smallest turning circle in its class and superb maneuverability.
Read more
Read less
Discover Bucher Municipal
Find out why Bucher Municipal is the perfect partner for you.