PakMor
Stationary
auger compactor
PakMor
Stationary Auger Compactor
Greater compaction, optimal performance and reduced transport cost.
Bucher Municipal's PakMor Stationary Auger Compactor is specifically designed for compacting large volumes of dry waste such as dry general waste, paper, cardboard, plastic and timber. The efficient processing capability of the compactor results in significant volume reduction, which ultimately saves collection and transport costs for waste and recycling services. 
The PakMor Stationary Auger Compactor crushes and changes the size and shape of waste material prior to packing it into the receiving container. The result is significantly higher tonnage per load as the material is more effectively processed and compacted by utilising an auger unit. Available in four different configurations: AS90 single 900mm auger, AS120 single 1200mm auger, AS60t twin 600mm auger & AS70t twin 700mm auger.
These augers can be paired with bin lifters, chutes, platforms, pre-crushers, sliders and bins from 6m³ -  40m³
Get to know the PakMor Stationary Auger Compactor
Save space, time & labour
Save space, time & labour
Bucher Municipal's PakMor Stationary Auger Compactor allows for:
Minimal onsite waste storage
Uninterrupted processing of waste, as the auger moves in a continuous forward motion to efficiently  compact product
Various loading options available, including bin lifter, forklift/tippler, conveyor, etc
Designed & engineered for optimal performance
Designed & engineered for optimal performance
Auger designed to suit specific waste stream & application
Electrically driven motor & gearbox eliminates potential oil leaks or damaged hoses
In-house mechanical & electrical engineering solutions
Industry leading technology options including email notifications, weighing systems and remote dial-in service response
Optimise tonnage per load
Optimise tonnage per load
The proven design of the PakMor Stationary Auger Compactor effectively crushes and changes the size and shape of cardboard prior to packing it into the receiving container. The changes to the characteristics of the cardboard eliminates spring back allowing for superior compaction efficiency, resulting in higher tonnage per container load.
Key specifications
Available in a range of sizes and variants to suit various waste streams and site specific requirements

Customized to accommodate space constraints, overhead height limits & site accessibility

Hopper manufactured to suit a variety of loading configurations

Compact design reduces overall footprint & saves space

User friendly control panel with 3/4 & Bin Full display

Galvanised container guide rails

Installation & operator training provided by Bucher Municipal

Available with a wide range of bin sizes from 6m³ to 40m³ to suit all sites and applications
Optional Extras
Safely and efficiently handle waste
Bucher Municipal manufactures a range of heavy duty hydraulic bin lifters to suit loading MGBs, front lift bins, tipplers, pallets & other custom applications.
The Bin Lifter is mounted inside a safety cage, with machine guarding and access interlocks designed to comply with Australian Standards.
Features such as door position, loading access, increased tipping height and lifting weight capacity can be tailored to suit customer requirements.
Prevent bridging and increase payloads.
Bucher Municipal's Cardboard Pre-Shredder is offered as an option to all Bucher Municipal PakMor Stationary Compactors. It is designed to effectively tear & shred oversized cardboard or dense material such as newspaper or magazine bundles, which prevents bridging or blockages during compaction. This also increases payload density allowing for up to 80% greater payloads per container.
The PakMor Slider system allows compactors to be placed in areas with access constraints. The Slider system includes a hydraulically operated platform that can be slewed on an angle, shifted sideways or moved forward into a position to safely access the compactor for collection. 
Advanced technology solutions
Bucher Municipal is the industry leader in compactor technology systems, which are constantly evolving to meet client requirements.
The PAK-ALERT Notification System generates emails to nominated recipients when the compactor is 3/4 filled and full allowing you to optimise service collection scheduling. Email notification of equipment faults can also be generated, with the option for dial-in access for improved service response, remote program updates & setting adjustments. 
PAK-WEIGH Technology offers multiple weighing solutions including data reporting, most commonly utilised to capture weight per user transaction using either a hand-load scale hopper or bin lifter with floor scale configuration. Alternatively, a rail system with scales can be installed to maximise container tonnage while ensuring compliance with NHVR and Chain of Responsibility requirements.
Compactor receiving containers
Available in a range of sizes, from 6m3 to 40m3 capacity
Multiple compactor containers allow for changeovers to minimise operational downtime & improved service efficiencies
Product variations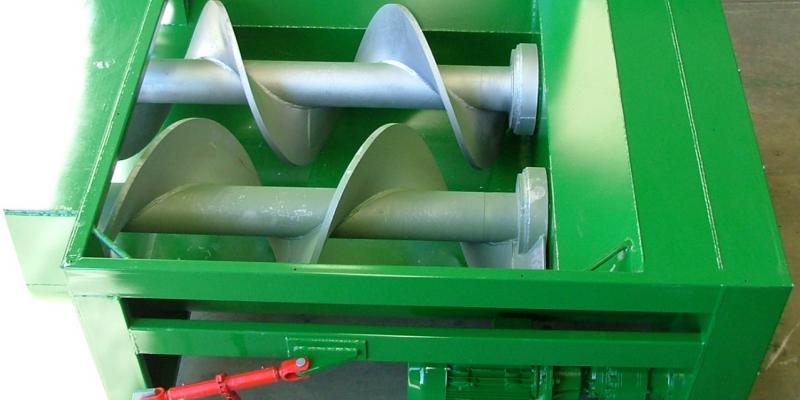 Twin Augers for heavy duty and high volume waste streams
PakMor Stationary 
Twin Auger Compactor
Bucher Municipal's PakMor Stationary Twin Auger Compactor is a heavy duty machine specifically designed for compacting large volumes of waste material. As a stationary compactor, this model is best suited to dry waste such as paper, cardboard and timber. Its twin augers provide a throughput of up to 4.5m³ per minute making this machine ideal for large industrial sites and production lines.
Bucher Municipal's Auger Compactors come equipped with a cavity free  sealed compaction chamber that prevents waste from collecting in hard to reach areas to minimise waste decmomposition and odour. The PakMor Stationary Twin Auger Compactor can be continuously loaded from the front or sides and features a range of customisable features to suit your specific waste compaction needs.
Read more
Read less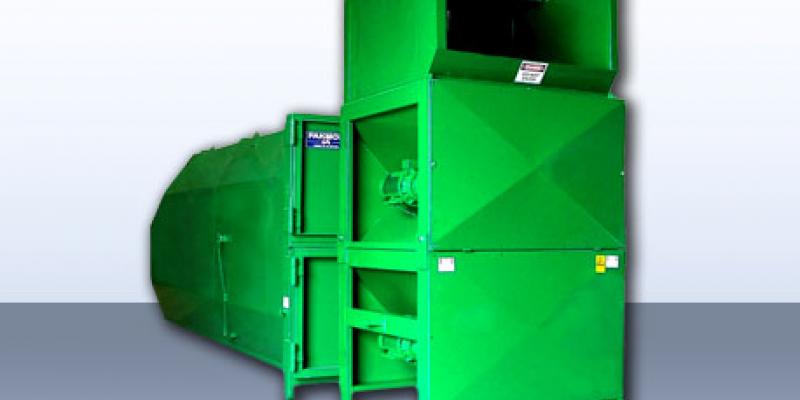 Double Compactor system for separate waste streams
PakMor Dual Compactor system
Bucher Municipal's PakMor Dual Compactor System allows for two compactors for separate waste streams to be located within the same footprint as one compactor. There are two separate compactor heads with separate receiving containers, with one unit on an elevated platform. 
The PakMor Dual Compactor System can be adapted to suit a range of waste streams, loading methods and site configurations.
Read more
Read less
Discover Bucher Municipal
Find out why Bucher Municipal is the perfect partner for you.