XPowa
Special truck
mounted sweeper
XPowa
Special truck
mounted sweeper
XPowa


Go beyond sweeping
This high-capacity vacuum sweeper and high-pressure washer makes sure that you have everything you need to get the job done. Part of Bucher Municipal's specialist range, the XPowa can be easily adapted depending on the task at hand with brush gears and spraybars also included to help along the way.
Get to know the Bucher XPowa
Double up on efficiency
Sweep, vacuum and wash roads as you go with this high-capacity sweeper. The high-pressure water system combined with two different detergent systems allows for efficient oil and grease removal that leaves you with a great finish
Optimise your sweeping jobs
Optimise your sweeping jobs
Deep clean roads, streets, and industrial sites with a large selection of brush gear, and when combined with the power of the water pressure system, can outperform any sweeper.
High performance in every aspect
High performance in every aspect
Clean anything from pedestrian areas to streets, roads, and industrial sites. With a hopper size up to 14 m3, this sweeper is up for any challenge, and with a high-capacity fan and adaptable brush gear, you'll be able to meet any challenge.
Stay longer on station
A large hopper with up to 14 m3 capacity maximises your sweeping time improving your overall productivity.
Key specifications
Up to 14 m³ hopper

Up to on 4 axle chassis

Fan with an air flow up to 520 m³/min

High pressure wash systems 150 - 400 bar

Spraybars on all brush systems

Wide suction and rotor cleaner options

Up to 300 mm suction hose
Optional equipment
Sweepgear
Water systems and related
Water tanks
Front and mid-mounted brushes
Front, mid, top and rear-mounted options
Full width suction
Specialised sweeping gear for all environments 

 
Working in various environments creates different situations, requiring specialised gear - every surface has to be handled with great expertise. With modern life comes challenging tasks, creating the foundation for a wide range of sweeping gear, making sure the job gets done with the highest expertise available.
1.    Rotatilt, right and / or left hand channel brush
2.    Multi coupling, right and / or left hand side
3.    Brush unit, side sliding, right and / or left
4.    Brush unit, side-sliding, right or left - 400 mm (with WSB)
Impressive high pressure systems up to 400 bar
Reliable and powerful high pressure systems are key. With Bucher Municipal, you get access to a wide range of high pressure systems, from 150 bar up to 400 bar water pressure. The level of high pressure we offer is unique to the business, giving you the opportunity to work more efficiently than ever before. Choose between following solutions.   
1.   High pressure water system modules
2.   Detergent tank with front mounted spray bar
3.   Detergent system incl. dosage unit - "Tap-Flo System"
Increase your water capacity significantly
As a standard, the Beam hopper water tanks are situated on each side of the hopper. Quite often additional water is needed when either longer sweeping time is required; where access to fresh water is limited or when large quantities of water are required. The range encompass both additional water tank and in hopper water tank.
1.   Additional water tank between cab & hopper
Made of stainless steel and located between the cab and hopper, it's linked to the standard tank. Choose from 1100, 1500 or 2000 liters capacity.
2.   In hopper water tank
Made of stainless steel and linked to both the standard tanks on each side of the hopper to maintain equal balance of the vehicle as the water is consumed. 
Simple solutions for demanding sweeping tasks

 
1. Front brush: Prevent planed asphalt from being crushed back into the surface by the vehicles front tyre.
2. Front brush, side sliding - 750mm: For asphalt planning, surface preparation, V-channel and lay-by cleaning and an extra reach of the side sliding arm allowing the vehicle to sweep where it normally would be inaccessible. *Available with a hydraulic tilt.
3. Front brush, side sliding - 300mm: Allowing the operator to place the brush right into the curb and road surface, and can also be used to prevent the tire compacting debris into the surface. *Available with tilt, to brush onto a curb top. 
4. Front brush, ø1100mm, side sliding - 1100mm: Provides a big advantage when sweeping lay-bys, bus stops, along roads with overhanging trees and when sweeping tunnels.
5. Brush behind front wheel: For the removal of weeds and grass that is growing at the edge of the road or on top of curbstones. Height control enables the brush to remove the weeds without the use of harmful chemicals. 
Accessories, gully clearing and remote litter collection
1. Scrapers: Full width scraper, mounted behind front wheel or scraper behind right and/or left hand front wheel. 
2. Magnets: Rear or front-mounted magnet for carrying out high-speed runway clearing or roadside cleaning. 
3. Edge Cutter behind right and/or left hand front wheel: Ideal for cutting back the edge of the road as is encroaches over time. The edge cutter removes the grass, weeds and earth in preparation for re-surfacing or just for cutting the edge back to the asphalt edge. 
4. Top- or rear mounted wander hoses: The wander hose options provide the operator with easy to handle gully sucking apparatus, which can be used to pick up litter or empty sand traps as well as gully clearing. 
No more trails of water 
Special side suction nozzles for use with rear mounted wide suction
With most high pressure water jetting systems, the risk of water spilling sideways and so leaving a trail of water behind the vehicle increases as the water pressure rises. With the special side suction nozzles, this risk is virtually eliminated since the nozzles are mounted on the outermost edges of the wide suction. With the addition of the side suction nozzles, an extra side curtain prevents some of the side spillage and the special side suction nozzles suck it up into the hopper. The special nozzles (one on each side) are activated at the same time as the rear suction so there is no need to activate any special flaps.
 
Get to know more
Exceptional performance with minimum noise and fuel consumption
Choose between a twin engine with either a standard or a high capacity fan where power transmission is done via a belt drive system and fluid flywheel. For ultimate speed control and powering the entire sweeper and washer functions choose instead having a single engine (from the chassis) with hydrostatic transmission and high capacity fan.
Superior results with less water
As an alternative to full width rear suction and spray bars, Bucher offers a rear mounted rotor cleaning system. It operates at 60 to 80 litres per minute compared to the traditional 100 litres per minute. This reduces the costs of fuel, waste disposal, refilling and allows for better utilisation (more on-station time). This system is equally valuable when used in road maintenance, construction, industrial site cleaning, and aircraft parking stand cleaning.
The system is rear mounted, it uses 4 rotating spray bars covering the full width of the truck and full width suction. It is completely enclosed ensuring no water seepage and a high vacuum that collects all water and waste. It can be used with a range of high pressure pumps from 100 to 400 bar.
Efficient oil/ degreasing removal
Detergent system options for grease and oil spill removal combined with a high pressure system. Front mounted detergent spray bar for stand-alone dispersal. Variable dosing system to control the dilution of the detergent by mixing with water. There are two different detergent systems available: mixer or mixed. 
In cab control systems
The sweeping controls are located in the cab. You have the opportunity to choose between a standard orintegrated control system, which gives you a more flexible control system, to accommodate your needs and requirements.
Flexible hopper and chassis sizes for a custom set up
2 axle 9 m³ hopper, 3 axle 12 or 14 m³ hopper, 4 axle 14 m³ liter hopper
Product variations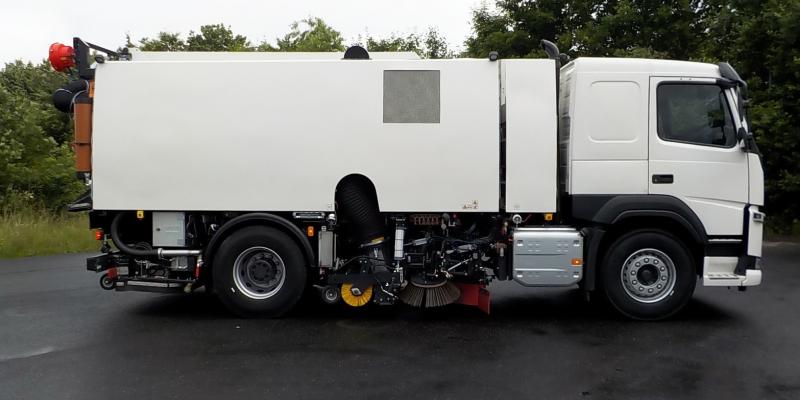 Bucher XPowa V90
Ideal for the city center
A small but powerful unit with a large capacity hopper. The 9 m³ stainless steel hopper is designed to outperform in street and pedestrian zones cleaning within urban and residential areas.  Available with a twin or hydrostatic engine.
Read more
Read less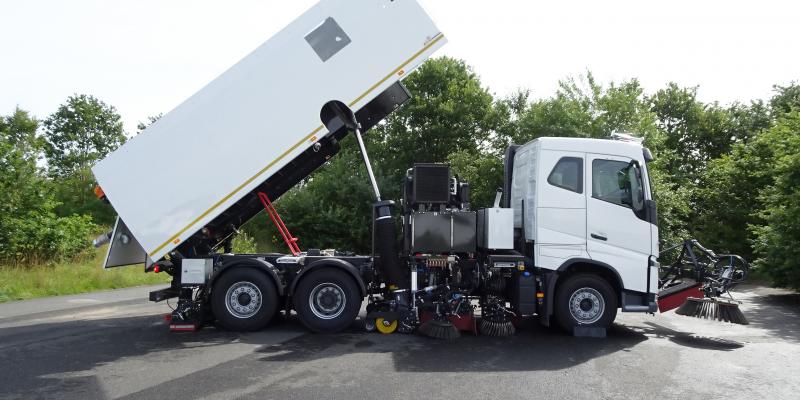 Bucher XPowa V120
Cleaning made easy
Flexibility and performance with a medium-sized truck-mounted sweeper. The 12 m³ stainless steel hopper is perfect to take on a wide variety of jobs.
 Available with a twin or hydrostatic engine.
Read more
Read less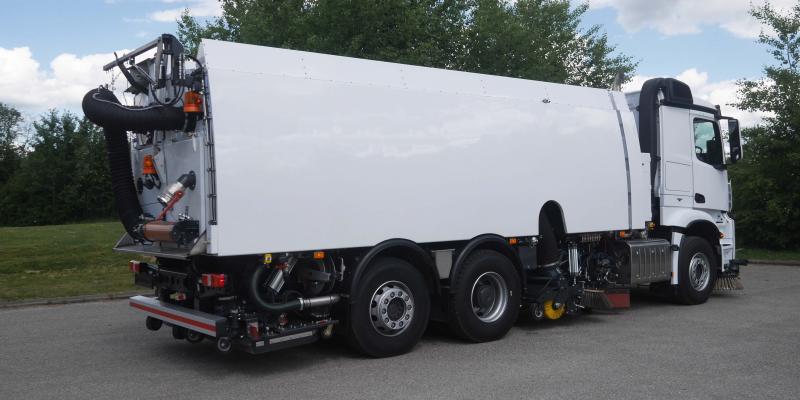 Bucher XPowa V140
For demanding cleaning
The larger capacity makes it ideal for more challenging jobs. More room to carry more water and to accommodate a heavy duty brush gear configuration.  Available with a twin or hydrostatic engine.
Read more
Read less
Other special truck mounted sweepers
Discover Bucher Municipal
Find out why Bucher Municipal is the perfect partner for you.