OptiFant 8000
The innovative solution
for tough applications
OptiFant 8000
Robust and powerful
High efficiency and cost-effectiveness, low noise emissions and a wide variety of options also make it ideal for municipal applications.
With its robust construction to meet the toughest challenges, its superior suction and sweeping performance and its high capacity hopper and water tank, the OptiFant 8000 is the perfect truck mounted sweeper for heavy-duty work around road construction and repair sites and for cleaning motorways.
Get to know the Optifant 8000
Hopper
Corrosion resistant hopper
The high capacity, hydraulic tipping hopper is constructed from corrosion resistant stainless steel as standard for excellent reliability and durability.
Water tank
Maximising on station time
An extra large clean water tank with a capacity of more than 2150 litres provides an abundant supply of water considerably increasing on-station work time.
Hopper Prop
Operator Safety
The multi-position automatic hopper prop maximises operator safety and allows the hopper to be tilted to various angles.
Powapack
Powerful power pack
The high performance, low-emission engine and hydraulically driven fan form a compact and efficient power unit which utilises the latest technologies to comply with all exhaust emission standards.
Key specifications
8.5 m³ hopper capacity
2150 litre water tank
Stainless steel hopper
4* EUnited PM10/2.5 Certifed
Leading sweep gear
Pendant controller for hopper functions
Key Features
Sweepgear
Hopper
Powapack
Systems Locker
PSS
Suction Performance
Robust sweep gear
The leading arm channel brushes are controlled pneumatically. When extended, the sweepgear is always within clear view of the operator
Hopper interior
The hopper interior has been constructed to ensure that no dirt deposits can remain trapped inside. This ensures complete, perfect emptying. The wide opening angle of the hopper door ensures that the swept material can be completely discharged quickly.
Powerful low-emission engine
The powerful low-emission engine with a hydraulically driven fan forms a compact and efficient power unit. This is a tried and tested unit complying with all exhaust emission standards.
Protected locker for system controls
A protected locker housing the pneumatic and electronic system controls ensure full control functionality in the most extreme conditions.
PSS - a Bucher Municipal exclusive
The programmable Sweeping System (PSS) control unit is mounted centrally. Controls are arranged ergonomically and are clear and easy to understand. Operating data required for recording costs, fleet management and billing can be downloaded to a USB stick in csv. format.
Strong suction performance
The above average suction power makes this vehicle particularly suitable for dealing with very dirty areas.
Product variations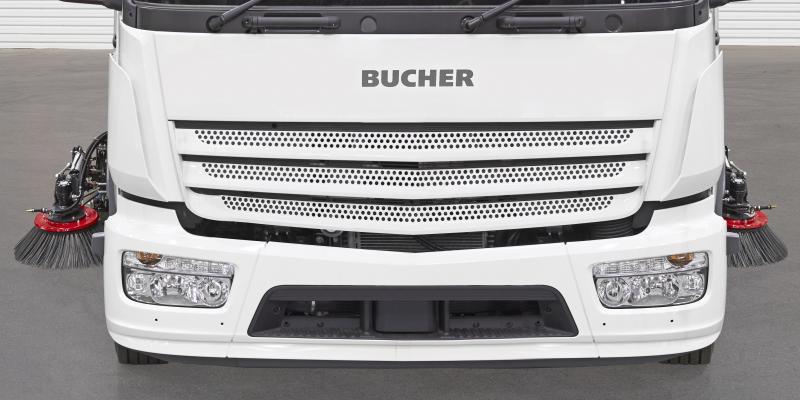 OF8000 with simultan-
eous channel brushing
The simultaneous sweep option allows both left hand and right hand brushes to work together making fast and efficient sweeping for light application surface cleaning.
Read more
Read less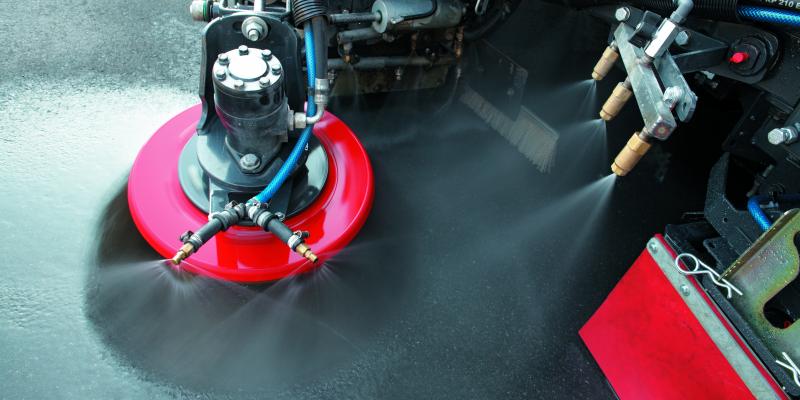 OF8000 with water
spray package
Additional water sprays to the sweeping area for further enhanced dust supression during sweeping operations, particularly useful in dry dusty conditions.
Read more
Read less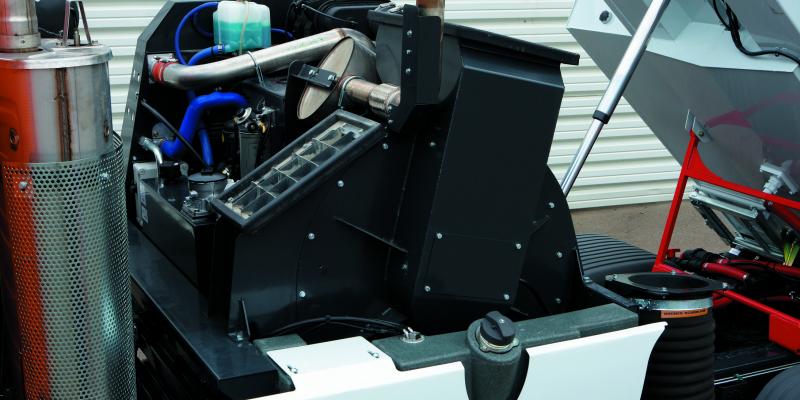 OF8000 with manual
water taps in the cab
With this option the amount of water
required can be controlled from the
adjustable valves in the drivers cab of the unit.
Read more
Read less
Other truck mounted sweepers
Discover Bucher Municipal
Find out why Bucher Municipal is the perfect partner for you.