MaxPowa E35m
Simple solution,
biggest advantage
MaxPowa E35m
Simple solution,
biggest advantage.
A customer-inspired single-engine design.
A proven Single Engine Design that blends a superior collection of features that provides ownership advantages such as the tightest turning radius in the industry and a Stainless Steel Hopper with a Lifetime Warranty.
Get to know the MaxPowa E35m
Simple
The single engine advantage
Unlike the competitors with two engines, the MaxPowa E35m's simple single engine design allows for fuel efficiency and easy maintenance. 
Operators enjoy less complexity with troubleshooting. Includes a choice of dirt shoes: industry preferred "T" plate or easily adaptable brush dirt shoes.
Reliable
Load sensing technology
Load sensing hydraulic system. The MaxPowa E35m has a complete load sensing hydraulic system and a 3.4m³ (4.5 yd³) hopper and 4-piece elevator.
The MaxPowa E35m features a 20 gallon hydraulic reservoir supplying oil to a variable displacement hydraulic pump in a load sensing hydraulic system. This system will adjust flow based on hydraulic demand from the sweeping gear so as to maximize efficiency and reduce heat.
All hydraulic valves are equipped with light emitting diodes to signal function and feature manual overrides. All hydraulics are centrally located in their own system locker for ease of access and maintenance.
These combined technological advantages make for one of the best looking, hardest working and most reliable machines in the industry.
Productive
Broom superiority
The MaxPowa E35m has a  3050mm (120") sweep path with an optional extended reach of 3650mm (144").
Operators experience faster sweeping and loading with the equal width pickup broom and 12 flight elevator, along with the aggressive "unhandled"  1100mm (44") leading arm/digger type gutter brooms.
Key specifications
3.4 m³ hopper capacity

1400 litre water tank

Stainless steel hopper

Large leading arm/digger type gutter brooms

Chain driven, 12 flight-squeegee type conveyor

Tight 18.6" turning radius with 136" wheelbase
Key Features
Commercial Chassis/Single Engine
Variable Dump Height Hopper
Water System/Dust Control
Elevator
Instrumentation/Controls
Gutter Brooms
Elegantly Simple By Design
The MaxPowa E35m's elegance is in its simplicity. 
Engineered for easy maintenance and fuel efficiency, that's the single engine advantage.
The Bucher MaxPowa E35m mechanical sweeper pairs perfectly with a Freightliner's superior M2 Class 7 chassis.
Superior Hopper Height
Choose to unload at ground level or into a dump truck with side boards or anywhere in-between.
The stainless steel 4.5 YD³ hopper is raised and lowered via a heavy duty; two stage scissors lift with hydraulic cylinders.
All lift and dump controls are hydraulic and located in-cab.
Lift capacity is rated at 12,000 LB and hopper dump angle sis 54° including 42" chute for better reach and efficient off-loading of debris.
Precise Dust Control
360 gallon baffled, polyethylene water tank.
Provides the necessary water to supply a direct-coupled hydraulic driven twin diaphragm pump delivery water to multiple water spray nozzles, strategically located at each gutter broom and front bumper.
An optional rear broom spray bar is available.
Made to elevate
Ultilizes a chain driven, 12 flight squeegee type elevator over polyurethane sprockets.
The MaxPowa E35m effectively captures and moves all street debris up its stainless steel floored elevator and into its all stainless steel debris hopper.
Elevator speed is constant and matched to the main broom speed for effective loading.
The elevator height can be adjusted from in cab to accommodate different sweeping requirements. The elevator bearings are sealed and self aligning.
No Surprises
The mechanical sweeper features all the necessary warning lamps and buzzers.
All wiring is colour coded and numbered. All internal and external wiring conforms to IP65 and IP67 standards – waterproof and dustproof.
Nothing out of reach
Large 44" hydraulic-driven, leading arm, digger-type, free floating gutter brooms with in-cab adjustable speed and down pressure to ensure aggressive cleaning of kerbs and gutters.
The side brooms feature a heavy duty steel disc, drilled for either four or five segment broom sections. The broom material is tempered steel tines, 26" long.
At the operator's discretion from the cab, the dual brooms can extend out to achieve a 144" total reach to facilitate cul-de-sac and curve sweeping.
Product variations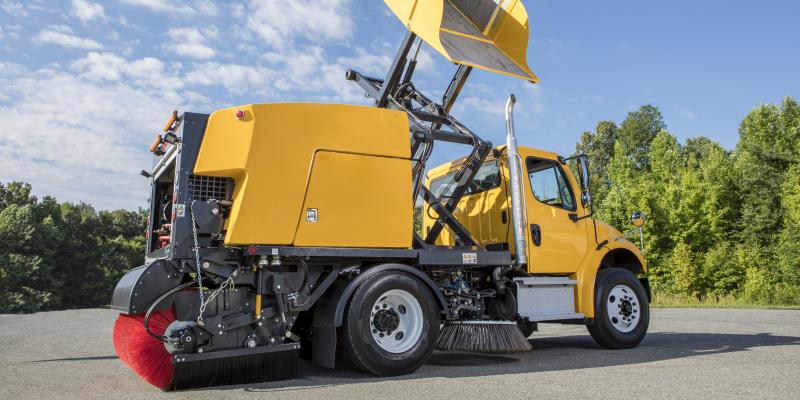 MaxPowa E35m with ultra high dump
The hopper is able to side dump at infinitely variable heights from the chassis rails to  3800mm (149") above the ground and with the Ultra High Dump option this can increase by 18" to 4300mm (169") making it ideally suited to transferring debris into a tipper truck - perfect for road surfacing applications.
Read more
Read less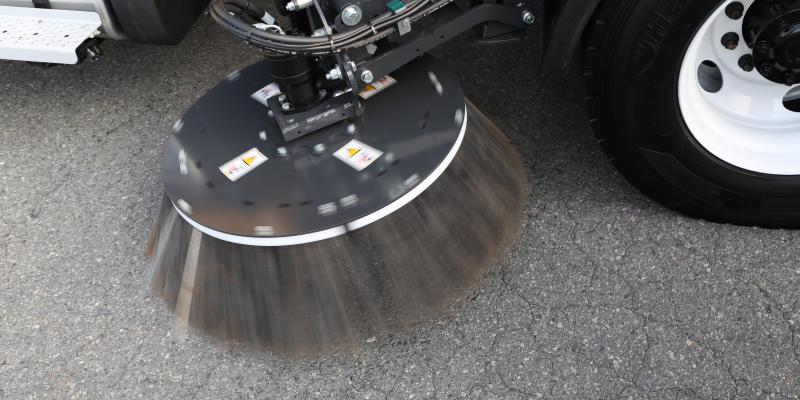 MaxPowa E35m with gutter broom rotatilt
With the optional rotatilt feature the angle of the gutter broom can be adjusted from the cab when sweeping to suit the road camber so allows the operator to easily adapt to the changing road profile at the touch of a button.
Read more
Read less
Other truck mounted sweepers
Discover Bucher Municipal
Find out why Bucher Municipal is the perfect partner for you.